Martin Roscoe, pianist
Welcome
Welcome to the website of acclaimed British pianist Martin Roscoe, where you can catch up on Martin's news, concerts, recordings and more.
New recording: The Complete Solo Piano Music, Vol. 2 - Dohnányi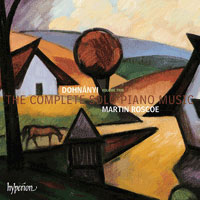 This second volume of Dohnányi's piano music, recorded for Hyperion, focuses on early works from the period 1897 to 1907, when Dohnányi was still establishing himself within the great lineage of composer-pianists.
"…shows Roscoe at his most dazzling, employing a huge dynamic range and changes of mood as swift as they are convincing … Roscoe never miscalculates the voicing of a chord nor smears a colour … It would be difficult to overpraise Roscoe's accomplishment."
International Record Review, January 2013
"…It's a fantastic disc - wonderful music, wonderfully played. Martin Roscoe deals with it heroically. I cannot imagine how many months this sat on his piano for because it's overflowing with exuberance in every possible regard."
Iain Burnside, BBC Radio 3, CD review, 5 January 2013
Latest Beethoven release on Deux-Elles

The third instalment in Martin's critically-acclaimed cycle of Beethoven piano sonatas was released last year on the Deux-Elles label, with Andrew McGregor on BBC Radio 3's CD Review commenting that:
"…in Op. 111's finale he has also tapped into an almost hypnotic underlying thread that takes us to journey's end with impressive certainty… the breadth and austere beauty of the opening of the Op. 109 is memorable here."
This exciting release came on the back of a very busy year, which saw Martin celebrate his 60th birthday and included a special celebratory recital at the Wigmore Hall and concluded with three concerts at Kings Place in December. In further recognition of his sixtieth birthday and his contribution to Manchester's musical life over many years, the Bridgewater Hall has also appointed him as Associate Artist for the 2012-2013 season.