Martin Roscoe, pianist
Welcome
During his illustrious career, Martin Roscoe has become one of the UK's most loved and respected pianists. With his extensive repertoire, consummate musicianship and immediate connection with audiences, he is in great demand as a concerto soloist, chamber musician and recitalist.
Martin appears regularly at Wigmore Hall and has long-standing associations with many of the UK's leading orchestras such as the BBC Philharmonic and BBC Scottish Symphony. A prolific recording artist, Martin has a distinguished discography and is one of the most broadcast pianists on BBC radio.
New recording: Elgar: String Quartet / Piano Quintet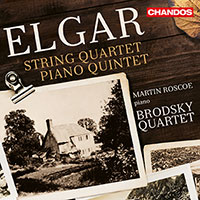 Martin Roscoe has teamed up with the Brodsky Quartet to release 'Elgar', their first CD together, which was released on Friday 3rd May 2019. This CD, released on the Chandos label, features the string quartet and piano quintet which were both first performed 100 years ago. Click here to order the CD.
The Quartet and the Quintet were all written in 1918 but given their premieres in the Wigmore Hall in 1919.
'…their performance has the sweep and big-boned assertiveness that the work needs.'
The Guardian